Free the Data!
Taboola powers recommendations for the open web, helping people discover things they may like
The company's platform, powered by artificial intelligence, is used by digital properties, including websites, devices, and mobile apps, to drive monetization and user engagement. Taboola has long-term partnerships with some of the top digital properties in the world, including CNBC, BBC, NBC News, Business Insider, The Independent, and El Mundo. More than 15,000 advertisers use Taboola to reach over 500 million daily active users in a brand-safe environment. Following the acquisition of Connexity in 2021, Taboola is a leader in powering e-commerce recommendations, driving more than 1 million monthly transactions each month. Leading brands including Walmart, Macy's, Wayfair, Skechers and eBay are among key customers.
Learn more at www.taboola.com and follow @taboola on Twitter.
Before Tableau software, what was Taboola's data situation?
Taboola, an international company that powers content recommendations, has an enormous amount of data located in Big Data systems. An inherent part of its activity is collecting and managing the data used by its customers to make current decisions. Before assimilating Tableau into the company, product directors were dependent upon the BI development department to create dashboards and to make the adjustments and developments continuously needed. For an organization with accelerated growth, the development resources were limited, with the demand for analyses of business data surpassing the ability of the department to provide the required service. The accessibility of the information to the product managers and the analysts and, accordingly, their ability to independently analyze the data, was much more complex.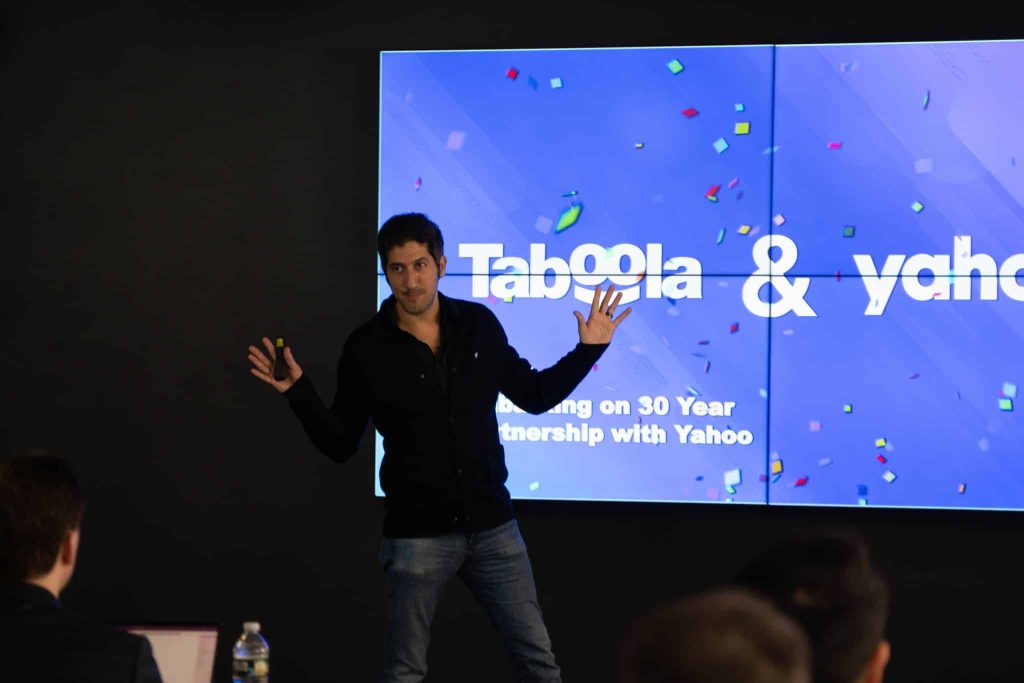 What were your immediate objectives?
The goal was to create flexibility in the organization. To acquire a tool that would enable the analysts to explore and analyze data and to build business models based on the data. In this way, the analysts would be able to work independently and flexibly without being dependent on the development team.
What challenges did you face?
A number of serious challenges made the transition very complex:
Taboola's organizational culture is data-driven and determines decision-making in the subsidiary organizations. For that reason, it was important to produce a self-service channel for the analysts scattered throughout the organization, to create reports and present the company's data in parallel to the BI development team that handles very sensitive data seen only by senior management.
The amount of data grows exponentially. The data comes from many sources in a variety of formats (text, voice, images, numbers, etc.) and it is becoming increasingly difficult to collect it and turn it into something structured, measurable and useful. When information flows throughout the organizations, not always within defined limits or clear ownership, it is much harder to manage the data. Data governance—responsible, ethical use and treatment of data—is one of the biggest challenges in the realm of data in recent years, due to the increase in the amount and sources of the data and increasing regulation (GDPR, privacy laws, and more).


How did you deal with the challenges, and what solution did Tableau provide?
The key to a successful process is first of all the people. In a process like this, which is subject to uncertainty and entails assimilation of new, innovative elements into the organization, there's nothing like learning from the experience of others and adopting solutions that proved successful in other places. Outside professionals can bring their own experience, perspective, and point of view, helping us to break away from irrelevant or outdated concepts and considerations that can get in the way of making choices and decisions crucial to the process. Choosing the right technologies and fast execution of small projects are important, but are complementary to the human-cultural process.
After a thorough examination of softwares available in the market, we chose Tableau. It is a very user-friendly tool for deep, complex data investigation, produces amazing reports, and aids in making critical business decisions in any organization. It also assists in integrating data from multiple systems, allows data sharing, alerts, and more.
G-Stat Ltd. advised and accompanied us throughout the assimilation process and was a meaningful partner in designing the solution. The company continues to accompany us via consultations, user training, and ongoing customer service by a professional team of experts.
What has happened since Tableau was installed?
Today, our staff uses the system throughout the organization, in every business unit and in the entire management hierarchy.
Analysts are an indivisible part of every business unit, and they use the system for a variety of analytical tasks, from deep analysis of activity, situation reports to the managers and A/B testing during upload of new product features, up to providing specific recommendations for action to achieve business goals.
For example, in the HR department, the team of analysts is working on an analysis of employees' characteristics, job suitability, life-work balance, training courses, measures for performance evaluation, and more.
Tableau has become the main analytical tool used by the analysts to connect a vast amount of varied data sources, with added value through synergy from different worlds of content and visual presentation of business insights to decision-makers.
Furthermore, analysts use Tableau to flush out data anomalies using a built-in alerts system; for example, to include alerts about inadequate funds in the company's content recommendations to its customers.
Could you give a specific example of how Tableau added direct business value?
Of course. Before the FIFA World Cup 2022, we did an analysis of reader preferences for a marketing campaign.
One of our new products is targeted content recommendations that appear on the mobile devices of telephone manufacturers who collaborate with Taboola. At Taboola, we developed a dashboard to show off the product's performance, efficiency, profitability, etc. The dashboard is intended mainly for management level and provides Live data, which is an essential factor for decision-makers. Visually, the dashboard is very impressive.
GSTAT is a leader in development and integration of advanced big data science, ML and advanced analytics solutions. As a BI professional company with hundreds of projects we deploy Tableau as a part of a carefully designed analytics eco system, harnessing competencies of difference data sources, designing efficient architecture and building value driven visualizations specifically made for each customer's needs and wants. In other words, we know best how to maximize Tableau's huge potential in your organization.